DVD Storage Cabinet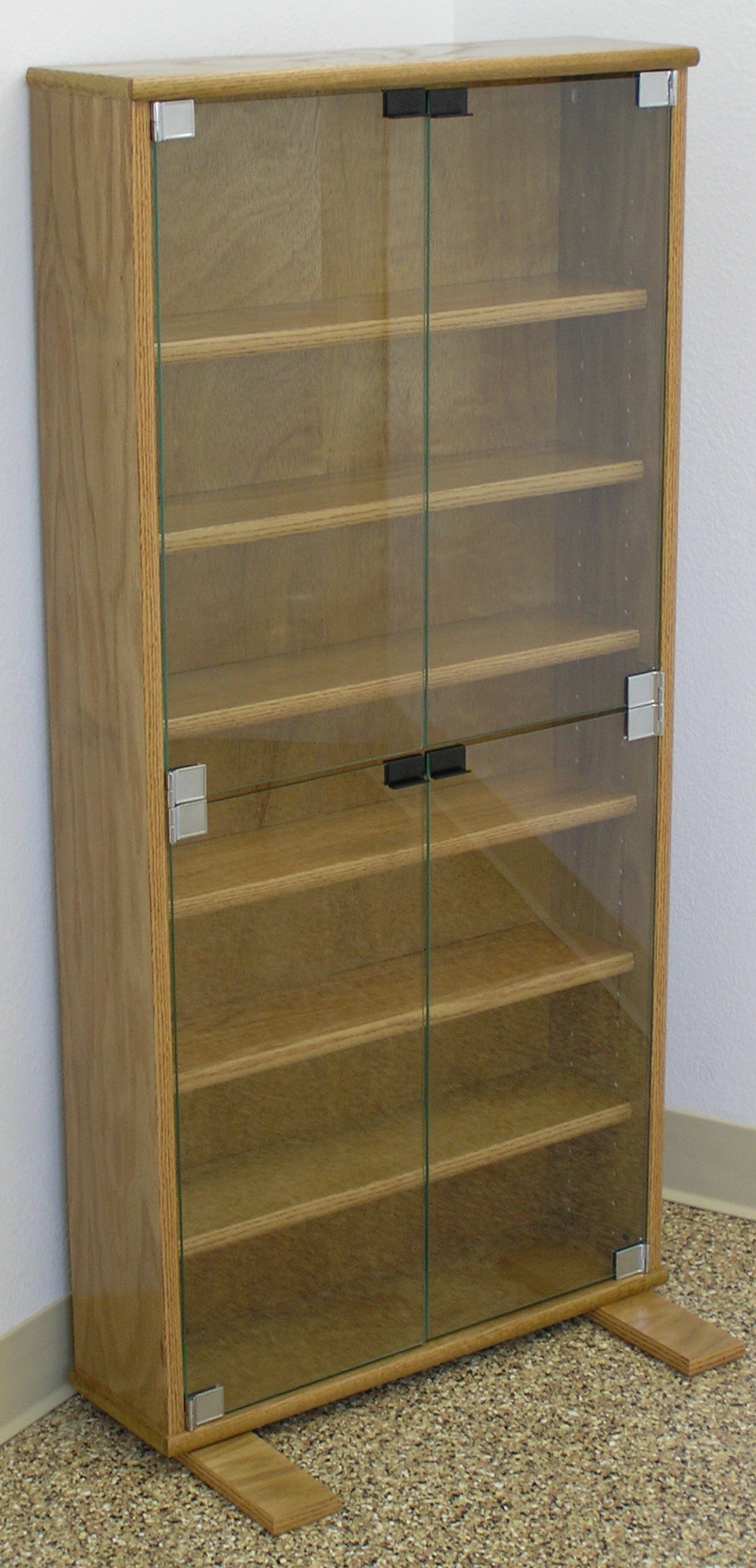 The 48" DVD storage cabinet with glass doors example above hand made by us at Decibel Designs is midway in height in our DVD bookcase line. 25" high, 31" high, up to 60" high or our popular 72" high storage cabinets. Or we can even make something entirely custom. DVD storage cabinets made from formaldehyde free plywood in heights from 27 to 72 inches made in the U.S.A. We use Columbia Forest products oak veneer plywood which is bonded together with soybean glue so there's no formaldehyde to out gas. Finished with clean EPA endorsed solvent free satin finish. Basicaly only dusting is required to maintain your cabinet. Clear or gray tint tempered glass doors made for us by Glasswerks. They do a wonderful job polishing the edges before tempering. We can fit door locks for you too. The doors are cradled in a nice nickel self closing hinge from Hafele. 3/4 inch thick shelving adjusts every 1 1/4 inches on brass plated solid steel shelf support pins. Stackable with our entertainment centers and bookcases. 1/8 plywood backs. A very high quality cabinet built by us to your order. We hand build and hand fit your DVD storage cabinet so it generally ships within two weeks. Custom sizes and finish colors also available for any DVD storage cabinet. We prefer that you choose a Minwax Wood Finish stain for the your best color which you select and then top coat with our satin acrylic urethane by Sherwin Williams for long lasting good looks if you'd like a custom color that ends up beautifully.
The end result is organic color with a completely professional finish.
This DVD storage bookcase cabinet by Decibel Designs is very strong and has a finish we're quite proud of. Consider putting one in your home!
Let us make some sawdust for you! telephone 888.850.5589 email info@decibeldesigns.com